Any zither player visiting Missouri - or indeed the United States - since 1870 would be drawn to the little town of Washington on the banks of the mighty Missouri, where Franz Schwarzer immigrated from Austria and became the first and greatest of American zither makers. When family matters took me from Virginia, near Washington DC, to St.Louis in mid-November 1993, I could at last follow in the steps of those who have gone before.


Thanks to Bob Yarbrough, a budding zither player in St.Louis, a wonderful long day was spent seeing Schwarzer zithers and related items, going through old pictures, making a long visit in the Schwarzer house, and even passing the area where Franz and his wife Josephine first settled and tried their hand at farming. Bob had contacted all the right people, so all the persons and places visited, all the Schwarzer things seen, even the chance to play a beautiful Schwarzer zither in the Schwarzer house for upwards of an hour: all of these delights were the result of his careful preparations.
We drove to Washington in heavy rain, whipped onto us by strong winds as we hurried into the Historical Society Museum. Frank Uhlenbrock, the director, welcomed us hospitably, and we repaired without delay to the Schwarzer exhibits occupying several glass cases in an open niche at one end of the large downstairs room. There is also a workbench from the factory. It was a pleasure to look at the instruments, with their fine crafting and decoration; they included an unusual one with the fingerboard outlined in white (presumably ivory) inlay. Our fingers itched to play them.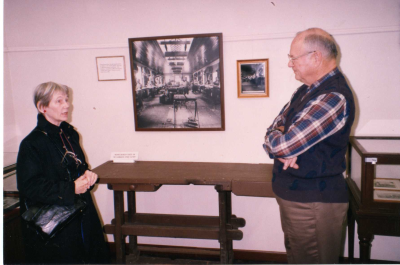 Jane Curtis and Frank Uhlenbrock
Frank took us upstairs to a storage and work area, where he showed us a breathtaking harp zither in Schwarzer's adaptation of the Mittenwald form: his Arion model. We were surprised to see how many of the surviving Schwarzer zithers in the area are of this type. This one was strung, with the tension released, but missing some strings. Frank produced a large bundle of Schwarzer strings (in their original papers), but the missing ones were not among them. The tuning was interesting: the fingerboard was standard tuning, while the right-hand strings were Wiener Stimmung, with the upper ab' as top string and the f, e, and d replaced by contrabasses. One of the zithers we saw, here or at another stop, had the contras arranged in the fourth-fifth order instead of chromatically as is usually the case today. We marveled at the tininess of the pieces of mother-of-pearl and colored wood used for the box borders and soundhole embellishments, and Frank showed us pieces of mother-of-pearl from which the tiny flowers, furbelows, and geometric shapes had been cut. We wondered how they could cut so precisely and finely without splitting the materials. One last thing Frank showed us was a collection of articles and pictures, including such delectable shots as 1920s ladies in piano scarves playing gorgeous zithers, one of Schwarzer's successors in the factory playing at his table, an ancient bearded man posing with a zither, and many others. We are fortunate to have such a committed historian preserving these treasures, and we promised to return soon to thank him with a concert of Schwarzer-era music.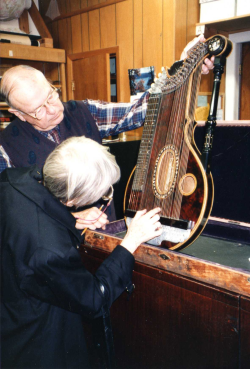 Schwarzer Arion Zither

Tearing ourselves away, already an hour behind schedule because there was so much to linger over and because Frank was so hospitable, we went over to the Washington library to view their three zithers, tantalizing in their glass cases, and the Schwarzer factory guest book with signatures from 1891 to 1953, after the factory's closing in the late 1940's. This had been dug out for us by Carolyn Witt. We couldn't look at each one, but spot-checking provided enough evidence of the worldwide fame of Schwarzer zithers. There was even a McMullin from Siam.
Tearing ourselves away again, we proceeded up the Missouri to Hermann MO to lunch at a winery. Bob recounted that there was a large pre-World War I wine industry in Missouri, done in by Prohibition and restored only after many years. We crossed the Missouri and headed west to the capitol, Jefferson City. The road runs along the river's flood plain, offering a continuous picture of the ravages of the great flood. Where the water had been was dull gray, a random mosaic of dirt, fine silt, sand, mud, and various mixtures. Looking away from the river, there was always a sudden green line where the water had halted before finally receding. Barns and other buildings showed dirty high-water marks. A pitched rooftop lay at an angle in a field.
Approaching Jeff City (as they call it), we saw the capitol dome from afar as we rode along on the north side of the river, which is not built up at all. It struck me as very nice to approach the capitol like that and see it rising as though directly out of the plain. Inside and out, it is a lot like the national capitol in Washington DC; even the office doors and the form of the numbers stenciled on them is the same. As planned, we met John Hensley of the museum staff in his office, where he had brought Schwarzer's first zither - dated 1864 in their information but probably 1866, since the Schwarzers only immigrated in 1864 and did not leave the farm for Washington until late 1866 or early 1867, according to Davis and Beinke.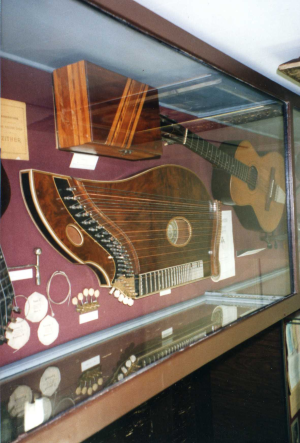 Schwarzer Luftresonanz Zither
It is a very creditable job for a first effort, and its non-professional aspects are of special interest. The joining of the horizontal box surfaces to the vertical frame is rounded and beautifully smooth, clearly the work of a carpenter, not an instrument maker. The frets are not all quite straight, not perfectly in line with one another, and not filed on the ends, and there isn't much resonance. But Franz improved very rapidly, was producing professional instruments by the end of the decade, and won the gold medal at Vienna in 1873. We saw reference somewhere to a medal in 1883 and wondered if this were a misprint, since no other available sources mention his winning again in 1883. Again, my fingers itched, not knowing what awaited them later in the day.
In the main exhibition area we saw perhaps the most elaborate Arion Zither of all, a harp model with elaborately carved pillar and extensively inlaid on the upper surface: not just borders and soundhole but a great proportion of the total area, including a two- to three-inch Columbia-like figure. It is hard to believe that so much disturbance of the resonating wood could fail to affect the sound quality, but presumably it did not. John ran us by the Thomas Hart Benton murals and a couple of his other favorites, and then we turned back toward Washington again, by now almost two hours behind schedule. Karen and Ed Diamond were awaiting us in the Schwarzer house, however, where the crowning experience of the day was about to occur.
Karen told us the history of the various stages of the house's growth. Schwarzers got it as a small two-storey trapper's shack, the upstairs accessible only from the outside. They later attached a charming Victorian brick house, complete with a small bay in the back parlor and large windows in the front parlor looking down over the river. The Diamonds have made the original trapper's shack into a cozy kitchen and have added more living and dining space.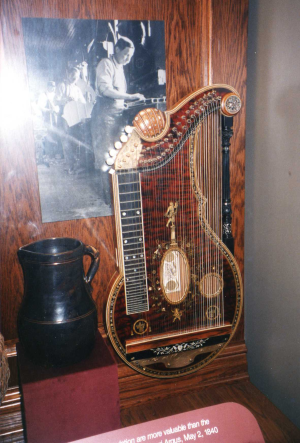 Schwarzer Arion Zither (Luthiers in Background)
The floor in the big front parlor is a remarkable footnote to Schwarzer's skill as carpenter and in the more delicate art of zither building and embellishing. It is parquet, made of scraps from the zither (and zither case) factory, set with exquisite precision in squares about four inches to the side, each one composed of different-grained pieces set in a pattern conforming to the overall plan. It is like a huge quilt, with differently-patterned remnants cut and pieced together with absolute precision. There is also a border, featuring a walnut stripe embellished with smaller pieces. That the floor still exists is another miracle, as it had been badly damaged when Diamonds were away and vandals broke in and left water running. Thanks to their perseverance and the delicate work of a young woodworker from nearby, it lives again.
As does the whole house and the zithers the Diamonds have there. They do not play but graciously let me play for forty minutes or so on a lovely little Arion model, #2139 1885, its sounding surfaces a soft grayish brown with a pattern like tiny whirling curls. They were happy to see and hear their zithers played, and for me, to be able to play music of Schwarzer's day on a Schwarzer zither in Schwarzer's parlor was an experience like none other. We promised to hold a concert there in the not-too-distant future. Before leaving we saw more pictures, many that we did not see anywhere else. Ed had gone to the state historical archives in Columbia MO, north of the capitol, and found these treasures by going through all the material there. The zither world owes Karen and Ed its deepest gratitude for saving and cherishing the house, the zithers, and other items, when they could so easily have abandoned them, and for their hospitable reception of Bob and me and other zither lovers.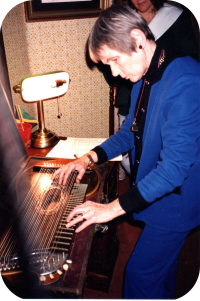 About the author: Jane Curtis has been involved with the zither for many years, as a performer, arranger, composer, teacher, and author. She is shown here playing a Schwarzer zither in the parlor of Franz Schwarzer's former home.
Do you have an article of interest pertaining to the zither? If so, contact me.