An illustrated periodical, published in the middle of the 19th century in Boston, suggests that Tyrolean minstrels would occasionally travel to America, introducing onlookers to the melodies of their homeland. In the following article, published in Ballou's Pictorial Drawing-Room Companion, April 4, 1857, a glimpse of their musical activities is provided.


The engraving on this page is from a picture drawn from the life, and represents one of those itinerant Tyrolrean minstrels who roam over the whole continent of Europe, and sometimes find their way to this country, making melody and money wherever they go.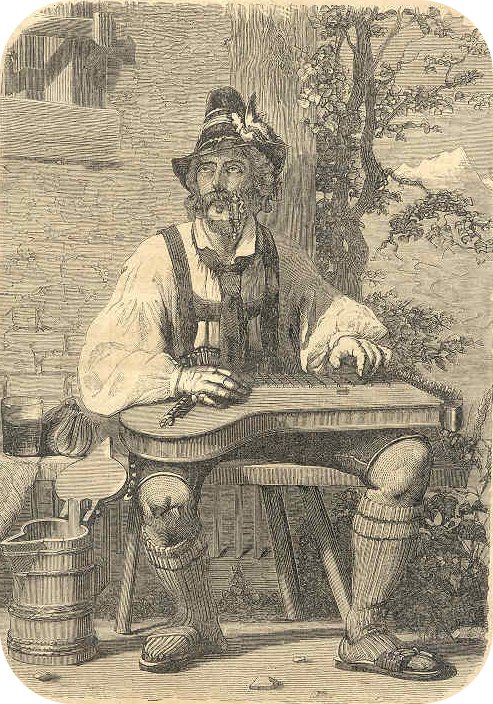 The Italian Musician
The instrument on which he is playing is not very unlike a guitar in principle, but yields a greater volume of sound. He is solacing himself, while playing, with the inevitable table pipe. The Tyrolese are remarkable for their musical aptitude. They possess a quick ear, and many of them have very fine voices. Vocal music is a favorite exercise with them, and the singing of whole families in the open air, in the mountains, produces a wonderfully fine effect.
The Tyrolese are a brave, free-hearted race, and like most mountaineers, ardently attached to their native country. If the Tyrolean sometimes wanders thousands of miles from his birthplace, it is only that he may obtain the means of making his home more comfortable., and of passing the remainder of his days in quiet amidst his dearly-loved hills and valleys.
With this attachment to their home, there is also the will to defend it from encroachment and invasion. If Switzerland has her Tell, the Tyrol can point with pride to her Andreas Hofer, a true patriot of modern days, who roused his countrymen to arms, and amidst their stern native passes, compelled the French people to respect the prowess of a people nerved to desperation by the outrages of foreign foes. History has enshrined the name of Andreas Hofer, the Tell of Tyrol, and his fame is preserved in many a mountain song. A favorite theme with these itinerant Tyrolean minstrels is the "Death of Hofer."






Do you have an item of historical interest pertaining to the zither that you would like to share? If so, email dave@zither.us, or use the provided contact form.