Zither players from Virginia, Maryland, Pennsylvania and New Jersey convened once again for the 33rd Sterling Zither Seminar. Jane Curtis, whose report follows, served as host for the event and led the zither enthusiasts through a well-structured seminar program, which spanned two days. The seminar was held at the Greenspring retirement community in Springfield, VA.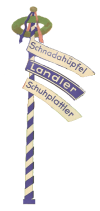 Stealing a march on the Easter Bunny, ten zither players met in Springfield, Virginia, on the weekend of 3-4 April 2009. The play day on Friday included canons and rounds, music from past seminars, and a nice mixture of other classical, folk, and popular music. There was also a nice mixture of refreshments to provide energy throughout the seminar, everything from Steve's homemade pumpkin chocolate chip cookies to John's Wasabi nuts.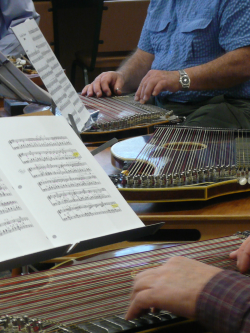 After last seminar's success in waking everybody up on Saturday morning with Anton Karas's little-known Zither Fox, we decided to try the same warm up device again with his Zither-Rhythmen, set as a duet. This snappy little piece is basically monotonous, but the fillips and minor variations that Karas throws in liven it up into an attractive and painless exercise. Once warmed up (and then some), we faced the toughest work of the day: Josef Hauser's Hungarian Fahrende Zigeuner, in his setting for three descant zithers.We creaked into action on this one, very slowly in both fast and slow sections, then paused to work on the hardest passages. Everyone worked on these tough spots, regardless of which voice they occurred in. Fingering, pivoting in the left hand, sharp staccatos and heavy accents, loud firm basses: these were some of the many problems present in the three voices. By the end of the day, the slow draggy sections were smoother, their chords fuller, their staccatos livelier, their accents stronger; and the fast-moving Czardas and Tanz picked up speed and spirit.
The morning break provided energy to proceed with Nur für Natur, the Strauss waltz we did at the last seminar. Some fine points were covered that we didn't have time for then, and we tried for better continuity and Schwung. An abrupt change of mood brought us next to Gershwin's Summertime, in my arrangement for solo zither. This lovely song, from his folk opera Porgy and Bess. is actually a lullaby, languorous and quiet but melodic and brought to life by gentle syncopation and some nice major-minor contrasts. We worked especially for smoothness in the melody, and in the accompaniment for deep resonance, soft strumming, and unhurried spacing of the divided chords.
Changing pace again, we finished off with An Franzl seina a three-voice Boarischer from Marktschellenburg—not really a difficult piece but one requiring special attention to a few fingering and accompaniment passages. With these taken care of, we could ramp up speed and spirit and end with a flourish.
Plans are already underway for Sterling Zither Seminar № 34 on 6-7 November 2009. Come and join us if you can. Contact Jane Curtis at zitherlady@yahoo.com.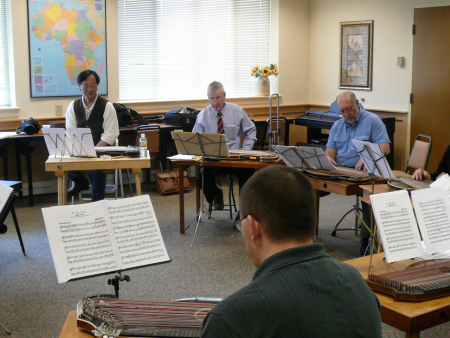 From top left, clockwise: Zitherists Donald Tsusaki, John Snyder, Tony Walter and Karl Skowronek work over Johann Strauss'
Nur für Natur.
Friday 3 April

1430 - 1730 Open Playing. Go out for supper


Saturday 4 April

0900 - 0930 Zither-Rhythmen

0930 - 1010 Nur für Natur

1010 - 1100 Fahrende Zigeuner

1100-1120 Break

1120 - 1200 An Franzl seina

1200 - 1240 Summertime

1240 - 1340 Lunch

1340 - 1720 Repeat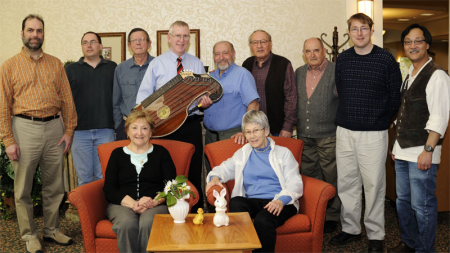 Left to right, back row: Steve Dippel, Karl Skowronek, Jim Vorosmarti, John Snyder, Tony Walter, Kurt Maute, Richard Skowronek, Dave Kyger, Don Tsusaki. Seated: Marie Skowronek, Jane Curtis


Have you recently participated in a zither related event? Would you like to share your experience? If so, email dave@zither.us, or use the provided contact form.