Born in Eibenstock, Germany, William Teubner immigrated to the US to seek new opportunities in Baltimore, Maryland's thriving port community. As a talented craftsman, he was known for his work as a furniture maker, carver and manufacturer of musical instruments. In this article we discuss his life and a restoration of one of his surviving works — a concert zither.


In his workshop in St. Louis, Missouri, Sasha Radicic evaluates an early American made zither. Although weathered with age, he notes that the materials used in its construction are of the highest quality. It is ornamented with a mother-of-pearl rosette and has elaborate inlay work of dyed veneers. The maker's label on the zither reads "Wm. Teubner / Manufacturer of Musical Stringed Instruments / Baltimore." It is obviously an old zither, but how old is it?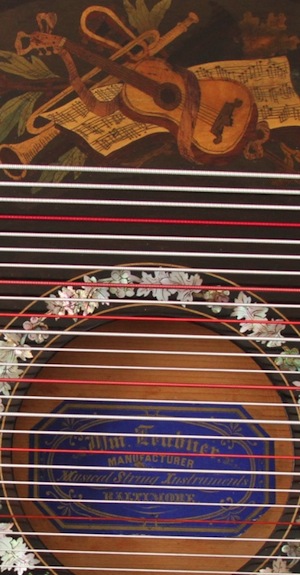 The story of William Teubner begins like those of many other Germans who came to America seeking new opportunities. Born in 1827, in Eibenstock, Germany, William Teubner left Bremen for Baltimore, Maryland, in May of 1851, sailing aboard the ship "Goethe." His occupation was listed as "carpenter" and his companions for this voyage included Germans from all walks of life, farmers, brewers, merchants, black smiths and other professions representative of a thriving society.
In Baltimore, he set up shop as a carver and should have encountered no difficulties finding employment in the bustling port city. There was certainly work to be had carving figureheads and other ornamentation for Baltimore's many sailing vessels. There are a few documented references to his early works from the 1860s. In 1864 he was commissioned by the Ridgely family in Towson, Maryland, to build a set of chairs which featured a carved representation of the family's crest. This early example of his furniture work can be seen today at the Hampton National Historic Site, now owned by the National Park Service.
In the 1870s, he continued his work and was joined in his shop by his eldest son, William Teubner Jr. In 1878, William Teubner entered and won a gold medal at the Maryland Institute Fair for a "carved walnut cabinet." It's likely that father and son both collaborated on this award winning piece of furniture.
By all appearances, William Teubner was a multifaceted artist. City directories for Baltimore, from the mid 1860s to the early 1890s, list his profession as "carver," "decorative artist," "sculptor," "designer" and "fine cabinet worker." He passed away in November, 1894, and was survived by two sons and a daughter. The tradition of woodworking that he brought from Germany was carried on by the family for several generations.
At the time of this writing, I am aware of three zithers that bear Teubner's name. One is currently in the collection of the York County Heritage Trust in York, Pennsylvania. Another is in the possession of Marie Skowronek in Maryland. The third is owned by the author and was recently restored by Sasha. To see this zither emerge from its former, neglected state was certainly a sight to behold.
In his work as a luthier, Sasha often uncovers details that are missed by the casual observer. Names, serial numbers and other construction details written on an internal component can sometimes provide useful clues to an instrument's age or origin. Back at his workshop, Sasha continues his examination of the Teubner zither and notices pencil markings on the inside of the instrument. There, written on an internal brace under the fretboard is a signature, Wm Teubner, and a date, 1890. A thoughtful craftsman.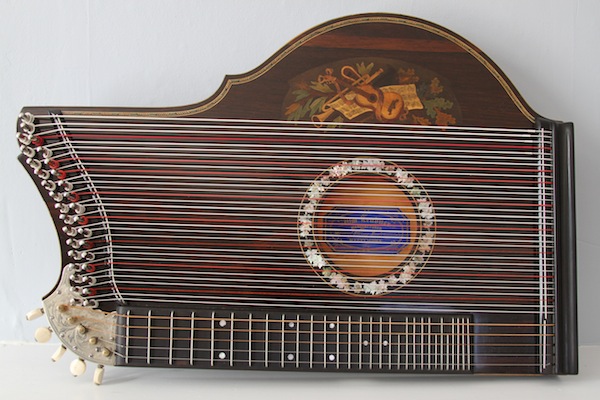 Wm. Teubner Concert Zither, 1890.

To learn more about Sasha Radicic and his work, visit his web site at www.radicic-guitar-zither.com.